Course details
【Winter Special Course】 Course using seasonal ingredients ◎ 2h with all you can drink <7 items in total> 4000 yen (tax included)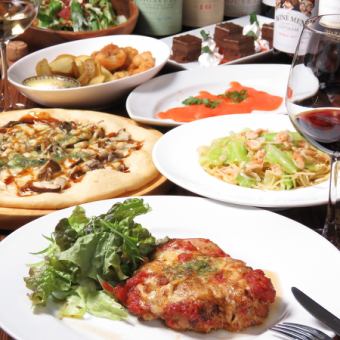 By using a coupon4000 yen
Tax included / All you can drink 120 minutes (LO 20 minutes ago)
All-you-can-drink available

Cocktail Ultra Fulfillment ♪ Includes beer as well 120 minutes with all you can drink! <LO 20 minutes ago>
Reservation deadline

Until 19:00 the day before the desired store visit
Available days for reservation

Monday - Sunday - Public holidays - Holidays
Winter's New Course! ◎ Various banquets ◎ 2 hour special course of winter with all you can drink ★ It is a course that used seasonal ingredients abundantly.Pizza and steak, with delicious after-meal dessert ♪ Parties of over 30 people are available! Please feel free to contact the store.
Course menu
«Cooking menu»
◆ salmon carpaccio
◆ Caesar style salad
Deep-fried potatos & anko
◆ Teriyaki pizza of mushrooms
◆ Italian chicken steak
◆ Cherry shrimp and cabbage peperoncino
◆ Dessert (mini cake)
* The contents may change depending on the purchase situation.We will offer the best dish for that day.
※ The final decision of the number of people up to 3 days in advance.
※ Please note that we are pleasing to pay 100% for the number of people on the day.
All-you-can-drink menu
· 【Draft Beer】
· Clear Asahi ※ You can change to Super Dry with + 300 yen.
· [Cocktail Beer Base]
· Red Eye / Cassisubia / Shandygaafu
· [Cocktail Wine Base]
· Kiel / Kitty
· [Cocktail Vodka Base]
· Bloody Mary / Moscow Commander / Bulldog / Screwdriver / Vodka Tonic
· [Cocktail Gin Base]
· Orange Blossom / Jin Back / Gin Tonic
· 【Cocktail Cassis Liqueur】
· Cassis orange / cassis grapefruit / cassis oolong / cassis soda
· 【Cocktail Whisky Base】
· High Ball / Whiskey Cork
· [Cocktail Rum Base]
· Cuba River / Isla de Pinos
· 【Cocktail Campari】
· Campari Orange / Campari Soda / Spumoni
· [Cocktail Tequila Base]
· Tequila Sunrise / Tequila tonic
· 【Cocktail Lychee Liqueur】
· Dita Orange / China Blue / Ditamoni
· 【Cocktail Milk】
· Karoa Milk / Matcha Milk
· 【Wine】
· Glass wine (red · white)
· 【Others】
· Potato shochu / wheat distilled spirit / brown sugar distilled spirit / oolong hi / plum wine / whiskey
· 【Soft Drink】
· Ice Coffee / Ice Tea / Oolong Tea / Cola / Ginger Ale / Grapefruit / Orange Juice
2018/12/07 update